1 tag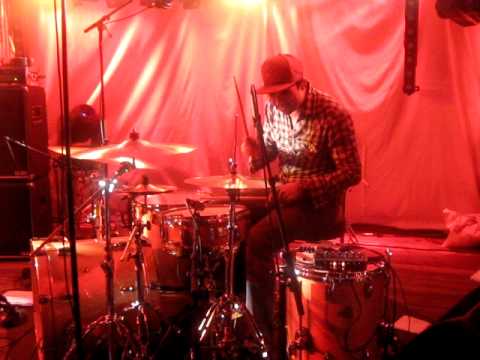 Pandora unveils free concert series - fans get...
thebangersbiz: Dawes is up first with a show in Portland, OR. Love this concept: reward a fan for using a product in a way that benefits his interestes - and then have that reward be related to those interests. Private invites are going out to fans based on what they've thumbed up… But it goes deeper: the LA times says the region was chosen based on user recommendation data. "Portland was...
1 tag
chasejarvis LIVE [Tues Dec 6]: Your Portfolio Is... →
Chase Jarvis and Allegra Wilde will speak on the importance of a portfolio and how to put one together - You don't want to miss it! I'll also be on the show, assisting with the demo for Eyeist.com, a portfolio review site that links photographers with professional reviewers! WHAT: chasejarvis LIVE: the portfolio edition WHO: You, me, portfolio guru Allegra Wilde & friends WHERE:...
10 tags
Ross Valory, Journey founding member
After accepting the top honor at the Billboard Touring Awards for "Legends of Live", I was able to speak with Ross Valory for a brief moment to get his advice for musicians. Ross Valory is Journey's noted bass player. He and Neal Schon, who also accepted the Billboard award, are the only original members of the band still performing with...
11 tags
Derrick Hodge on sustaining a music career
"In the long run, life, Karma, & God has a way of bringing great opportunities to you if you present yourself as worthy," says bassist, composer, producer and Maxwell Music Director, Derrick Hodge. As we sit in his Los Angeles home, we speak about his life, experiences, and he also shares invaluable information about what it takes to sustain...
7 tags
R.I.P. Steve Jobs
By now, I'm sure that you already know that one of the most important and influential men in our lifetime has passed away. He had been battling pancreatic cancer since 2004. The world will miss him. Musicians will miss him. There's no doubt that without Apple, and the brilliance of Steve Jobs, the music industry would be completely different; We can create great...
13 tags
Brian Tyler, Film Composer
Brian Tyler is a composer of over 50 films and recent winner of four BMI Film/TV Awards for his work on The Expendables, Fast Five, Battle LA, and Hawaii Five-0. He has composed and conducted the scores for "Eagle Eye" for producer Steven Spielberg, the box office hit "Fast and Furious," "The Expendables" and "Rambo" directed by Sylvester...
9 tags
Brian Tyler, Writing Music for Fast Five
Brian Tyler talks about writing music for the summer blockbuster, Fast Five.Watch Interview
Head in a Clean Spot!
It's hard to put into words the amount of inspiration, motivation and hard core knowledge I've gained this past weekend. I was fortunate to attend a workshop with Music Photographer, Zack Arias at CreativeLIVE. I had the honor of learning about everything from how to build a portfolio and business advice to composition, lighting and technical stuff like reciprocals and how to figure...
8 tags
George "Spanky" McCurdy, Lady Gaga
George "Spanky" McCurdy started playing the drums at a young age in church. By the age of 13, he was known for his unique and innovative style of drumming. He has played with an impressive roster of artists including Lady Gaga, Kanye West, Tye Tribbett, Diddy, Jill Scott, Justin Timberlake, and Ciara.Watch Interview
8 tags
Fat Joe's advice to up-and-coming recording...
Joseph Cartagena (August 19, 1970), better known by his stage name Fat Joe, is an American rapper, CEO of Terror Squad Entertainment, and member of musical groups D.I.T.C. and Terror Squad. Fat Joe's first album was Represent, released in 1993, followed by Jealous One's Envy in 1995. From 1998 to 2006, he was signed to Atlantic Records, releasing four albums under the label, Don...
8 tags
John Legend's Musicians Jam
John Legend's Rashid Willams and Eugene Roberts jam for about 15 minutes after a rehearsalWatch Interview
15 tags
The Suga Mamas: Beyonce's All-Girl Band
If you've been to a Beyonce concert within the past few years or have seen her perform live on TV, you've most likely noticed the lovely ladies behind the instruments, locking down the groove. These ladies would be the Suga Mamas, Beyonce's all-girl band. We were fortunate to catch up with a few of them while they were in Philadelphia during their US tour. Marcie Chapa,...
7 tags
John Legend's Horn Section
On the day before America's birthday at the Art Museum steps in Philadelphia, John Legend does a soundcheck and rehearsal for one of America's biggest Independent's Day celebrations. OnTheGig was able to catch up with Allen Arthur, Clayton Riley and Stephen Tirpak for some words about making it music.Watch Interview
9 tags
Esperanza Spalding, Jazz Bassist & Vocalist
From Berklee student, to Berklee instructor, to jazz phenominon, Esperanza Spalding's story is inspiring to musicians everywhere. After a gig with Joe Lovano, we got a chance to sit down with her at the Village Vanguard in New York City so she could share some of her story and advice. Coincidently, this was right before the release of her album and amazing rise to the top of the jazz charts....
11 tags
Brian Fraiser-Moore, Drummer (Madonna, Janet...
One of the most successful drummers in the industry, playing with everyone from Usher and Christina Aguilera, to the Backstreet Boys, Madonna and Janet Jackson, Brian Fraisier-Moore is one of those musicians who continues to not only entertain arenas full of audiences, but also inspire a world of musicians. We were able to catch up with Brian at his Philadelphia home and chat about getting gigs,...